What's the 2019 Alfa Romeo Giulia Quadrifoglio 0 to 60?

According to testing completed by Car and Driver, the 2019 Alfa Romeo Giulia Quadrifoglio 0 to 60 is 3.6 seconds. It's not only fast-accelerating but also fast in general. It reaches a top speed of 191 mph, making it faster than the Stelvio Quadrifoglio SUV. It's also faster than much of the competition. The Porsche Panamera, for example, takes 5.4 seconds to accelerate from 0 mph to 60 mph. The Giulia Quadrifoglio is also equipped with Pirelli tires and sturdy iron brake rotors, allowing it to stop from 70 mph in 143 feet.
Alfa Romeo Quadrifoglio Speed & Performance
new Giulia Quadrifoglio get its immense speed? It's powered by the same engine found under the hood of the Stelvio Quadrifoglio — a 505-hp twin-turbocharged 2.9L V6 engine rated at 443 lb-ft of torque. In addition, it gets the following features to give its performance capabilities a boost:
Where does the
Brembo brakes
19-inch wheels
Torque-vectoring rear differential
Two-mode exhaust with bypass valves
Carbon-fiber active front splitter
Carbon trunk spoiler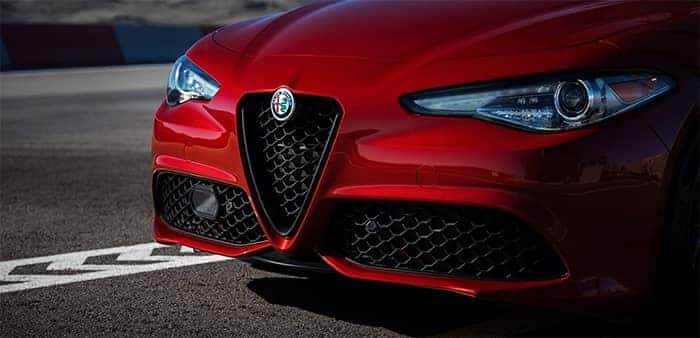 Highlighted Quadrifoglio Performance Features
The critically acclaimed Alfa Romeo Giulia Quadrifoglio speed and power can also be attributed to the following features, some of which are exclusive to the Quadrifoglio lineup:
Q4 High-Performance All-Wheel-Drive System: Using an Active Transfer Case, this system can allocate up to 50% of the engine's torque to the front wheels to accommodate changing conditions throughout Cincinnati.
Near-Perfect Weight Distribution: With a near-perfect 50:50 weight distribution, the Alfa Romeo Giulia Quadrifoglio whips around corners like a champion.
Available Carbon Ceramic Brakes: Equipped with these optional brakes, the Giulia Quadrifoglio can stop on a dime.
Alfa DNA Pro Mode Selector: Alternate between four driver-selectable modes: Race, Dynamic, Natural, or Advanced. Each performance profile brings a unique driving experience to the table.
Test Drive the Giulia Quadrifoglio at Alfa Romeo of Dayton!
The Alfa Romeo Giulia Quadrifoglio 0 to 60 is just one of the many exciting aspects of this race-inspired sedan. If you're not necessarily looking for a high-performance sedan, take a few minutes to get acquainted with the Alfa Romeo Giulia configurations and costs. You can also check out the performance details of the 2020 Giulia. When you're ready, contact us to schedule a test drive near Dayton and Bellbrook and we'll put you behind the wheel of the model you like best! You can also learn more about the 2020 Quadrifoglio options.
More From Alfa Romeo of Dayton