How to Buy a Car in Another State

---
Have you found the car of your dreams outside of the state you live in and are wondering about buying a car out of state? You may be concerned about factors like registration, taxes, fees, and geography. If you are worried about adding to the stress of the car-buying process, you don't have to when you shop with us. Not only do we strive to make the car-shopping process hassle-free, but purchasing a car out of state is not much different than purchasing one in your home state. To help car buyers interested in buying a car in another state, the team at Alfa Romeo of Dayton has a handy guide to make the process go smoothly.
Registering a Car Bought in Another State
If you have asked the question, "Can I buy a car in another state?" – the answer is yes! One of the main concerns most drivers have is regarding registering the car in their home state. Adding your license plate on a vehicle that was taken over state lines only requires a few documents and a trip to the DMV.
Ask for a bill of sale that has the purchase price you paid listed clearly and find your local DMV on a website like DMV Near Me.
Have the following documents on hand when you visit your local DMV:

Bill of sale
Completed application for vehicle transaction form
Title of the vehicle signed by the previous owner
Lienholders' names and address
Filled out odometer disclosure state for title transfer
Tax Form RUT-50 Private Party Vehicle Tax Transaction
Registration Fees
Proof of insurance
Proof of residency
Notify the DMV clerk know that that car was bought in another state, but you want to title and register it here.
Usually, the clerk will give you back the bill of sale and hold on to the title. You will then have to pay the difference in sales tax between the two states.
You should receive the new title in the mail shortly.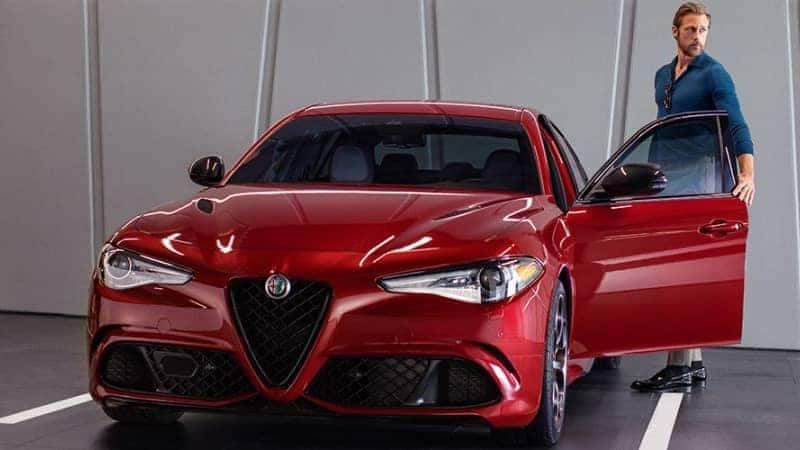 Out of State Cars: Taxes and Fees
Keep in mind that in addition to the cost of the vehicle, you are also responsible for paying the local sales tax, the difference between the sales tax in your home state and where you purchased the car, and any applicable processing fees at your DMV. You will need to factor this in when determining your budget.
Shop for Your Next Car at Alfa Romeo of Dayton
If you live outside of Ohio and find the perfect vehicle at Alfa Romeo of Dayton, don't miss out on your dream car! Buying a car in another state is actually quite simple. Contact us today with any questions. We would be glad to assist you.
More From Alfa Romeo of Dayton
Our %%di_city_1%% customers love the race car feel of both the Stelvio Quardifoglio and the Giulia Quardifoglio. The carbon fiber interior and the powerful performance of these models make for unparalleled performance. Let's delve into the details about both the Alfa Romeo Stelvio Quardifoglio Interior and Alfa Romeo Giulia Quardifoglio Interior below. New Stelvio Inventory Contact Us…

Boasting peerless Italian design and performance, the Alfa Romeo Giulia is guaranteed to make waves on Cincinnati streets. And of course, the 2020 Alfa Romeo Giulia is equipped with a luxurious, state-of-the-art interior that is sure to make your daily drives through Bellbrook an absolute pleasure. But what exactly can you expect from your new…

If you're a Xenia driver in the market for a new luxury sport sedan, the Alfa Romeo Giulia is everything you've envisioned. Across the seven available 2020 Alfa Romeo Giulia configurations and many available packages, there are countless ways to tailor your Giulia to your driving style and Cincinnati lifestyle. Read on below to discover…